Scanning Electron Microscopy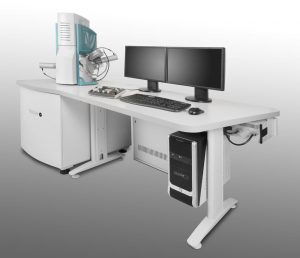 SEM is one of the most versatile and powerful microscopy methods providing magnifications of up to 50,000x. This method is best known for the incredible quality of the 3-D images which can be generated. When coupled with EDX this method can also be used to provide an elemental composition map of the sample. Samples are fixed to the sample holder and then gold coated to form a conductive surface. The image is then formed by scanning the sample using a finely tuned electron beam and monitoring the reflected electrons from the sample surface. This allows the creation of a much higher magnification image than is possible by light microscopy. This method is useful for either transparent or non-transparent specimens which can be placed into a high vacuum. Magnifications greater than 50,000x can be obtained which far exceed the 1,000x maximum magnification possible for light microscopy. OR:
Imaging of topographical features and chemical phase differences, with elemental analysis
SEM-EDX can be used to provide surface elemental composition information of areas as small as nanometers in diameter. A finely tuned electron beam scans the sample and monitors the reflected electrons from the sample surface. The impact of the electron beam produces x-rays that are characteristic of the elements in the sample. SEM-EDX is also capable of analyzing multiple spots to create elemental maps of the surface of a sample, which can indicate materials present in either broad phases, or as small localized impurities. SEM-EDX detects all the elements from B to U, with detection limits of 1000 – 3000 ppm, depth resolution of 0.5-3um, and a probe size of 15-45 Å.
Identification of surface elemental composition
Thin films analysis
Examination of surface morphology
Particle contamination identification
Identification of trace impurity spots