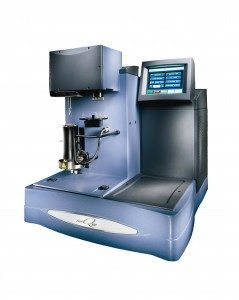 Analyze Thermal Decomposition and Determine Inorganic Filler Content!
Thermal transitions in a substance are often accompanied by a change in mass. Thermogravimetric Analysis or TGA is an effective way of measuring these mass changes. During TGA, the sample is heated in a furnace purged with an inert atmosphere while being simultaneously weighed on a scale. This allows the determination of the temperatures at which a material undergoes thermal decomposition as well as the weight percent of the decomposed material. Thermal stability can also be determined by measuring weight loss as a function of time at a constant temperature. Inorganic and carbon black content can be measured by switching the purge gas to air. Evolved gas analysis can be performed in conjunction with TGA using a mass spectrometer. This provides a means of identifying the decomposition products associated with each weight loss in the TGA trace.
Thermogravimetric Analysis is Ideal for the Characterization of Materials by Thermal Decomposition!
Characterize materials by comparing decomposition patterns
Measure carbon black and inorganic content
Evaluate the thermal stability of materials
Study the resistance of metal alloys to oxidation