E&L testing (Extractables and Leachables) is conducted on plastic products to determine the small molecules which are released from a polymer system including antioxidants, surfactants, slip agents, plasticizers, acid scavengers, crosslinking agents, lubricants, residual monomers and oligomers. It is not uncommon to find tens or even hundreds of individual small molecules species which are extractable from a given polymer system depending on the extraction conditions.
Performing Extractables & Leachables (E&L) testing is an important part of verifying the safety of a medical device product. Design of an E&L testing study requires an understanding of the materials used to construct the device and the expected use conditions. The laboratory which conducts the study must have sufficient expertise in unknown identification to properly leverage information from multiple techniques, databases and control experiments to allow for positive unknown identification. They must also have the breadth of instrumentation which allows for analysis of a wide range of potential analytes. Finally, they must also be experts at analytical method development such that they can utilize this knowledge to develop quantitative methods for the components identified.
The accuracy and reliability of an E&L testing study should be confirmed using rigorous quality control measures. This includes some or all of the topics listed below depending upon the quality system requirements for an individual E&L study:
Analysis blanks
Negative controls
Positive controls or spiking studies
Validation of analytical methods
Read more about the process used to determine extractables and leachables (E&L) testing from plastics in the white paper.
Jordi Labs specializes in the analysis of plastics and has the experience and knowledge to make your E&L study a success. Jordi partners with our customers to develop and execute E&L studies empowered by more than 3 decades of analytical experience and state of the art instrumentation.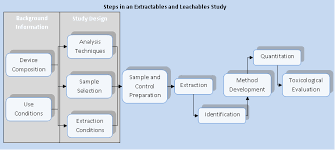 Browse our Extractables & Leachables (E&L) Testing Research
Our team of PhD chemists is researching this rapidly changing area of analytical chemistry. We will publish our white papers and case studies here.