Nuclear Magnetic Resonance Spectroscopy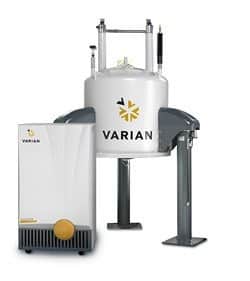 Find your substance's identity!
NMR (1H, 13C, 14N, 29Si, 19F, 31P, 2D) is one the most important spectroscopy methods for the identification and structural elucidation of organic molecules. Due to the nature of the technique (proportionality between measured peak area and the number of nuclei detected), quantitative data can be achieved with the use of an internal standard.  Applications range from small molecule characterization to branching analysis, quantification of monomer ratios in copolymers and measurement of polymer weight fraction in blends. 2D NMR provides additional information about the connectivity of atoms enhancing structural elucidation.  In conjunction with mass spectroscopy (GC or LC), IR, and elemental analyses, NMR is a powerful and indispensable tool for the characterization of organic compounds.
Excellent tool for identification of small molecules
Powerful quantitative tool
Polymer branching and copolymer/blend analysis