FTIR-Microscopy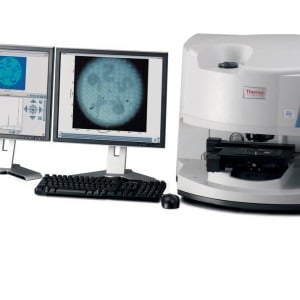 Elucidate Surface Composition with Functional Group Chemical Mapping!
When performing failure analysis, it is oftentimes necessary to investigate the heterogeneity of the sample surface. FTIR-Microscopy is the tool of choice! During FTIR-Microscopy, molecules absorb the applied infrared radiation at their characteristic vibrational modes. The wavelength and intensity of the absorbed light is recorded and allows for identification of functional groups present at the surface or in the sample bulk depending on the analysis mode. This proves not only useful during failure analysis but for the non-destructive deformulation of small (micron sized), precious samples.  With a minimum spot size of 10-15 µm and various acquisition modes (transmission, reflectance and ATR), in situ chemical functional group mapping can be performed.
FTIR Microscopy is ideal for the direct and more sensitive analysis of organic components on surfaces!
Screen for compositional surface differences in failed and control products promptly
Screen unknown small contaminant particles
Extremely small particulate samples (~10-15 µm)
Non-destructive analysis of one-of-a-kind samples
Cross-Section chemical mapping (for multilayer films)
Provide a measurement of layer thickness and grain size