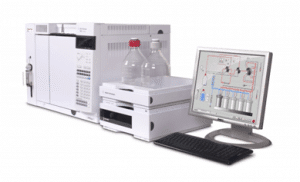 Resolve polyolefins by branching structure!
Temperature Rising Elution Fractionation (TREF) can be used to determine the concentration of polyolefins with varying degrees of branching through the separation of polymers based on their crystallization temperature. Most commonly, it is employed to resolve whether polyethylenes are HDPE or LDPE as linear polyethylenes (HDPE) tend to crystallize more readily than branched polyethylenes (LDPE). The experiment consists of placing the sample into a suitable solvent and loading it onto a GPC column. The temperature of the system is then lowered and the polyolefin precipitates onto the GPC packing as a function of its branching structure. The temperature is then raised in a controlled manner causing elution of the polymer as a function of its branching structure. The concentration of the eluted species is then measured by an Infrared detector and the comparison of peak area allows for calculation of the relative PP/LDPE/HDPE percentages.  As one of the few techniques with the ability to resolve differences in polyolefin branching characteristics, TREF can be a powerful tool in the characterization of your polyolefin material!
Determine class of polyolefin, i.e. HDPE vs LDPE.
Characterize the distribution of branching in polyolefin materials.
Determine the comonomer content of your polyolefin blends.