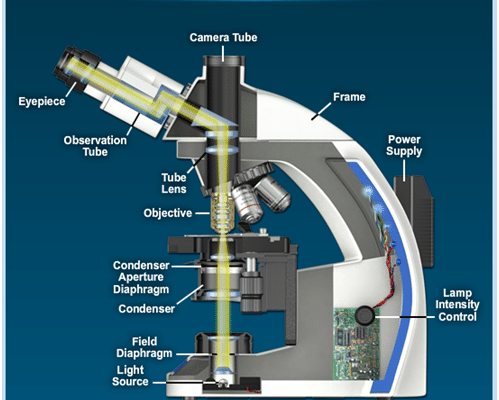 Just Passing Through
Transmitted light microscopy is a type of light microscopy where light is transmitted, or passed through, a sample. For this type of light microscopy samples are required to allow light through them. A Transmitted light microscope uses light that passes through a condenser into an adjustable aperture then through the sample into a series of lenses to the eyepiece. The condenser and condenser aperture combination controls the light in a way that gives illumination that allows for the right balance of resolution and contrast. This type of microscopy is used to distinguish morphological characteristics and optical properties of samples. There are several different techniques for transmitted light that are used for sample analysis:
Bright-field microscopy
Dark-field microscopy
Phase contrast microscopy
Polarization microscopy
Differential interference contrast optics microscopy
Transmission light microscopes are used to look at thin sections – the specimen must transmit the light which includes tissues, cell walls, crystalline components, and thin films, etc.