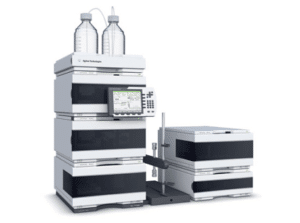 This technique can be used to separate or purify components from a mixture  based on their polarity. Molecules which are more polar are retained and elute later.
Although this type of chromatography isn't used as often, there are many good reasons to choose Normal Phase HPLC. It is great when a compound is too hydrophobic or hydrophilic for reverse-phase HPLC. It can also be used for isomer separation, if the sample injection solvent is non-polar, or if recovery in non-polar solvents is desirable.
In normal phase chromatography, the stationary phase is polar, usually using silica. The mobile phase is nonpolar, using hexane or chloroform.  Compounds with greater polarity elute later in the chromatogram and those with the least polarity elute earlier.