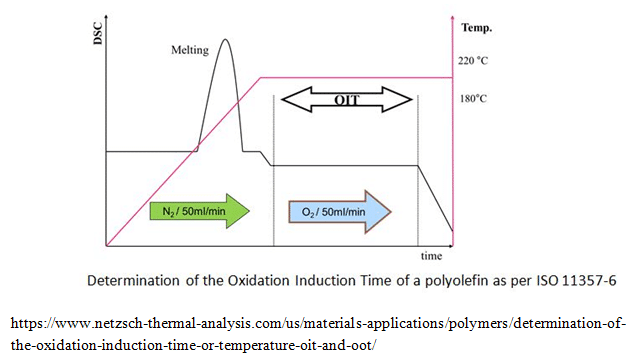 Predict thermo-oxidative performance of a material
The long-term oxidation stability of a polymer can be determined via Oxidation Induction Temperature / Oxidation Induction Time (OIT) by means of differential scanning calorimetry (DSC). There are two different methods: dynamic and isothermal OIT tests. In the dynamic technique, samples are heated at a defined constant heating rate under oxidizing conditions until degradation begins. The OIT value is determined as the extrapolated onset temperature of the DSC exotherm. In isothermal OIT tests, samples are heated under a protective gas atmosphere, oxygen is then introduced. The length of time from the first contact with oxygen until the beginning of oxidation is the OIT value. Testing for polyolefins by DSC-OIT can be conducted according to ASTM method D3895-14.
Characterizes the thermo-oxidative stability of polymer material.
A qualitative measure of the level of stabilization of the polymer.