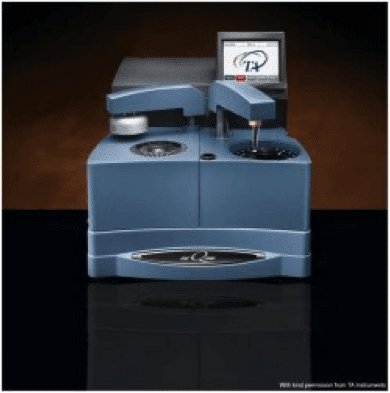 Superior sensitivity, resolution, and separation of overlapping thermal transitions
DSC has been widely used to measure thermal properties of a sample including heat of fusion, crystallinity, glass transition, and melt temperature. With standard DSC, the difference in heat flow required to raise the temperature of a sample and an inert reference is measured, and the amount of heat absorbed or released is determined during thermal transitions. Temperature is changed linearly at a specified rate and the sum of all heat flows occurring at a given temperature is obtained. On the other hand, MDSC uses a sinusoidal heating rate which allows for determination of the reversing and non-reversing heat flows. This can be used to more definitively identify thermal transitions and to separate out non-reversible effects when measuring reversible transitions such as the glass transition of a polymer.
The following equation relates the total observed heat flow to the heat capacity MDSC.

Where dh/dt is the total heat flow which is equivalent to that obtained in standard DSC; is the heat capacity component, which is calculated from the heat flow component that responds to the modulated heating rate; and is the kinetic component, which is calculated from the difference between the total signal and the heat capacity component. Examples of reversible transitions typically include the glass transition and most melting transitions and non-revisable transitions include evaporation, crystallization, decomposition and cure transition phenomenon, etc.
MDSC improves upon standard DSC because it measures the total heat flow and its heat capacity (reversible) component and obtains the kinetic (non-reversible) component from their difference. Courtesy: Dr. Benny D. Freeman, University of Texas
In summary, MDSC improves upon standard DSC because it measures the total heat flow and its heat capacity (reversible) component and obtains the kinetic (non-reversible) component from their difference. This provides further physical and structural information regarding the material and allows for:
Separation of overlapping transitions
Improved sensitivity for detecting weak transitions
More accurate measurement of polymer initial crystallinity
Direct measurement of heat capacity
Quasi-isothermal measurement of heat capacity changes during reactions or kinetic processes