The world of liquid chromatography has come a long way since the first online detectors for HPLC systems became available. At that time sixty some years ago, refractive index and conductivity detectors were all that was available, but neither provided the sensitivity that would satisfy the needs of most LC applications. It was only a couple decades later when UV detectors were introduced that some of the sensitivity issues were addressed. Unfortunately, not all molecules are UV-active and while derivatization to add on chromaphores is one way to circumvent this problem, it is not always feasible to do so.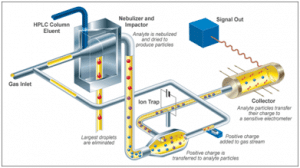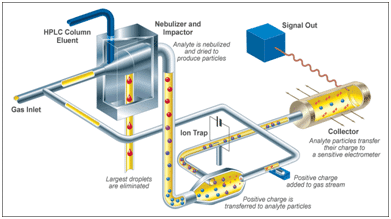 In light of this, the Corona charged aerosol detector (CAD) has been gaining popularity in the past few years due to its universal and high sensitivity detection for non-volatile analytes. In industry, this new method is used most frequently in the analysis of impurities in pharmaceuticals. Interested in testing this trending technology for ourselves, we've also recently acquired a CAD here at Jordi Labs and have applied it successfully to analytes ranging from polymers to small molecules. As with all things, we are sure that there will be pros and cons to be learned, but from what we can tell so far, the CAD gets two thumbs up from our LC experts who can attest to its sensitivity and non-discriminating, quantitative detection ability. As one of the few contract analytical labs that offers charged aerosol detection, Jordi Labs would be pleased to work with you in pushing the limits of quantitation through the use of this novel technology. Who better than Jordi Labs with more than 3 decades of liquid chromatography experience to serve as your partner for HPLC-CAD analyses to perform quantitative analyses more efficiently and with greater economy than was possible in the past!
References
M. V. N. Kumar Talluri. "Recent Advances in Analytical Methodologies for the Determination of Impurities in Drugs". Pharma Focus Asia. http://www.pharmafocusasia.com/manufacturing/recent-advances-analytical-methodologies-determination-mpurities-drugs.html. Accessed Dec 29, 2014.
R. McCarthy, P. Gamache and D. Asa. "Development and evaluation of Corona Charged Aerosol Detection (CAD): a new universal detector for HPLC". LabPlus International, June 2005.