What is the chemistry of compounds potentially remaining on a surgical instrument following a typical cleaning procedure?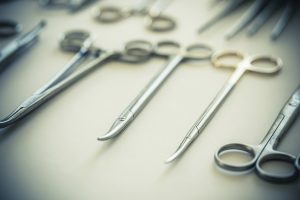 Reusable medical devices are those which can be reused for diagnosis and treatment of multiple patients. After each use, a reprocessing or cleaning procedure is followed for disinfection/sterilization of said device. Cleaning is necessary for the removal of tissue and other contaminants between patient uses. The reprocessing procedure aims to adequately remove biological contaminants from a given reusable medical device as effective sterilization requires clean surfaces.1
The reprocessing procedure also includes a rinsing step to remove residues of any chemical agents employed during reprocessing. This rinsing step is of particular importance, as failure to remove residual cleaning agents and liquid chemical germicides can interfere with subsequent steps of the reprocessing procedure, resulting in incomplete disinfection/sterilization of the medical device. Failure to remove residual cleaning agents can also cause damage to a medical device. However most importantly is the fact that the components of such cleaning agents are often toxic, and thus their residues pose a health hazard when used on new patients.
Due to the aforementioned risks associated with incomplete removal of chemical cleaning agents, it is important to assess the effectiveness of the washing step typically employed during reprocessing of medical devices.
Jordi can perform analyses to investigate the chemistry of compounds potentially remaining on a reusable medical device following a typical reprocessing procedure.
Jordi routinely works in the medical device industry, providing deformulation and physical testing, contamination and failure investigations and more.  We offer litigation services and support for legal cases involving patent infringement and liability issues.
Read more about how our team has analyzed devices and materials relating to packaging, protective products such as bandages, implantable devices and medical solutions used in clinical settings.